Happy Snappers Win Prizes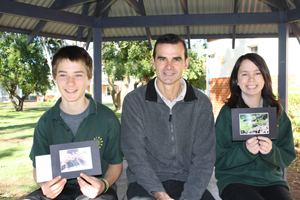 Two up-and-coming photographers were very happy last week after being told they had placed highly in a regional photography competition.
Margaret River Senior High School students Riley Demunari and Ricki Williams won second and third places respectively in AccordWest's Visions of Strength competition.
Ruth Tilstone of AccordWest was pleased with the quality of photos submitted.
"Most of the entrants were from Bunbury, Harvey, Busselton, Collie and Margaret River," she said.
"The overall quality of the Margaret River entrants was fantastic. A lot of thought was put into the photos."
The student's photos will be exhibited in AccordWest's offices in Busselton and Bunbury.
"The three winners' photos will be displayed in our counselling rooms, and in a few years we hope to print therapeutic cards with the pictures on," Ms Tilstone said.
Riley, 14, said he was "really stoked" with his achievement and the $250 cash prize which came with it.
"Photography is one of my favourite subjects," Riley said.
"The money will mostly go towards my bike and maybe spending money for a holiday."
Ricki, 15, was looking forward to spending her prize.
"I'm going to save the money to go shopping on a Perth trip," she said.