Strategic Areas
Community Relations
Effective Communications
Value for Money
Efficient Administration
Our Objectives
Be an open, welcoming and supportive group with a strong sense of community;

To foster community interest in educational matters;

Provide optimal support for students and school requirements as representatives of the wider community;

Conduct meetings that are a receptive forum for ideas, concerns, discussions and decision-making;

To communicate or respond to matters when/if required while maintaining political and personal neutrality;

Effective communications with families and school;

Encourage closer cooperation between parents, members of the community, staff and students;

Best value for money outcomes and wise usage and allocation of funds;

Efficient and successful running of canteen and uniform shop;

Compliance with P&C rules and guidelines.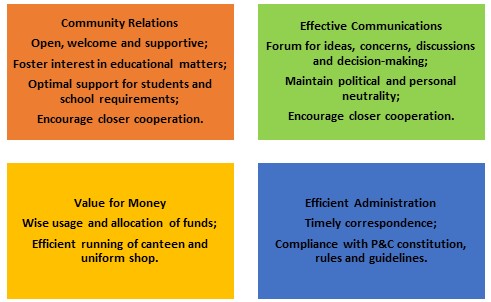 2022 P&C Committee
President : Joe Forte
Vice President: Dot Male
Treasurer: Aoife Cosby
Secretary:
Executive Committee Members: Melanie Lilford, Rebecca Dale, Tracey Muir, Craig Mathieson, Richard Dowling, Clemence Haselgrove
General Member: Raylene Field
All parents and community members are invited to attend the MRSHS Parents' and Citizens Inc. meetings to share ideas and get involved in planning the future of the school.
Meeting Times
One hour meetings are held in the School staff room once or twice per term, with the AGM held in April each year. An email is sent to all parents/carers one week before the meeting to advise meeting details.
Parents views are highly regarded and any suggestions are positively received and explored by the P&C Committee.
The MRSHS Parents' and Citizens Inc. is committed to building a strong school community by:
Supporting the staff and students to create a positive, energetic, safe and productive school community
Support efforts to ensure the wellbeing of the students is reinforced
Providing an opportunity for social interaction of parents, to make families feel welcome
"There is no better way to learn about the school, make new friends and contribute all at the same time" – Caline Meyer
Student Accident Insurance
One of the most significant things the P&C has contributed to student welfare over the years is the accident insurance for each and every student enrolled. Copies of the policy guidelines and claim forms are available from the Front Office and Student Services.
Thank you
P & C President
Parent Information
Click here for useful web-links for parents:
https://margaretrivershs.wa.edu.au/links-for-parents/
Student Cover Insurance 24 hour cover by your P&C
Claim Forms can be downloaded from www.studentcover.com.au with information about how to lodge a claim.
Queries should be directed to EBM Insurance Brokers:
4 Victoria Street,
Bunbury WA, 6230
Phone 97814744
Fax 97814745