2011 Ski Trip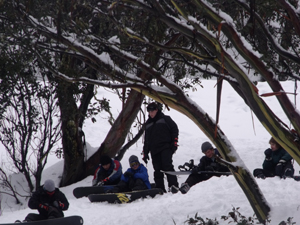 Snowballs flew and skis were mastered on the Margaret River Senior High School's recent ski trip to Falls Creek, Victoria.
"It was amazing, so addictive," the students said, already missing the crisp air and snow after returning to cold wet weather at home.
For some it was their first plane trip, and for many it was their first experience of snow.
A group of 34 people, mostly senior students, had a blast on the trip, which they paid for themselves.
The annual trip, from July 15 to 23 during the school holidays, included ski lessons, a few minor injuries, lots of "stacking it", and races between snowboards and skis – the snowboards won and one snowboarder alleged this was partly due to the "coolness" of snowboards"
Despite some icy conditions, teacher Bruce Darby said the snow season was the best in 15 years.
Some braved the 'Black Run' slopes – even though it took three hours of careful skiing.
On the poorest snow day the students took to making snowmen, snow angels, a snow fort – in one case a "snow axolotl" – and had snowball fights.
Other highlights were seeing the Harry Potter and the Deathly Hallows part II film, ordering room service, and the Tutankhamun exhibition at the Melbourne Museum.
The travellers stayed in a variety of hotels, with a special final night at the Hilton.
Melbourne's markets and the "awesome" St Kilda vs West Coast football game topped off a wonderful holiday – but for some girls the cherry on the cake was meeting Masterchef hottie Hayden Quinn at the airport.